Radha Ayyagari, Ph.D.
Laboratory Chief | Shiley Eye Institute
Dr. Ayyagari and her research group are performing studies on molecular genetics and therapeutics of retinal degeneration. Her studies include retinitis pigmentosa, macular degeneration, AMD, Glaucoma, diabetic retinopathy, and other ophthalmic diseases with a genetic basis. These investigations involve the determination of the genetic causality of ophthalmic conditions, understanding the molecular mechanism underlying the disease process, identification of potential therapeutic targets and developing therapies. Her team utilizes bioinformatics, genomics, proteomics, single-cell multi-omics approaches, model systems such as mouse models, patient iPSC derived cell and organoid models for their studies. She also Directs the Biobank at the Viterbi Family Department of Ophthalmology, Shiley Eye Institute. She is funded by the National Eye Institute, the Foundation for Fighting Blindness, Research to Prevent Blindness, Nixon Vision Foundation and Edward N. and Della L.Thome Foundation.
Dr. Ayyagari is also a professor in the Department of Pathology at UCSD.  She is a  member of the Institute of Genomic Medicine at UCSD and also a member of the Bio-Medical Sciences graduate program. 
---
Christopher Hallock, SRA I
Laboratory Manager
Christopher completed his Bachelor of Science degree in Molecular and Cellular Biology at The University of Arizona. Joining the Ayyagari Lab as a research associate, he aims to gain the knowledge and experience needed to continue his studies as a Ph.D. candidate. He is excited to be able to contribute his skills to the furthering of our understanding of retinal degeneration. Besides work, he enjoys experimenting with new recipes and visiting new places.
---
Manisha Dagar, Ph.D.
Postdoctoral Researcher
Manisha Dagar completed her Ph.D. degree at Amity University Haryana, India on Androgen signaling in Prostate cancer. During her Ph.D., she was awarded "2020 JBC Herbert Tabor Early Career Investigator Award" and was invited to give a talk at the American Society for Biochemistry and Molecular Biology (ASBMB) annual meeting 2020 with a travel award.
After her Ph.D., she did one year of Postdoctoral research at the Translational Health Science and Technology Institute (THSTI), India on "Efficacy of herbal extracts on SARS-CoV2". She joined Dr.Ayyagari's laboratory as a Postdoctoral fellow in October 2021. Her research is focused on understanding the pathology of Late-onset retinal degeneration (L-ORD) caused by CTRP5 mutation by proteome analysis of RPE-Choroid in CTRP5 mutant mice. During her postdoctoral, she presented her work as poster presentations at the Association for Research in Vision and Ophthalmology (ARVO) 2022 and 2023.
Besides her work, She loves traveling and spending time with her family.
---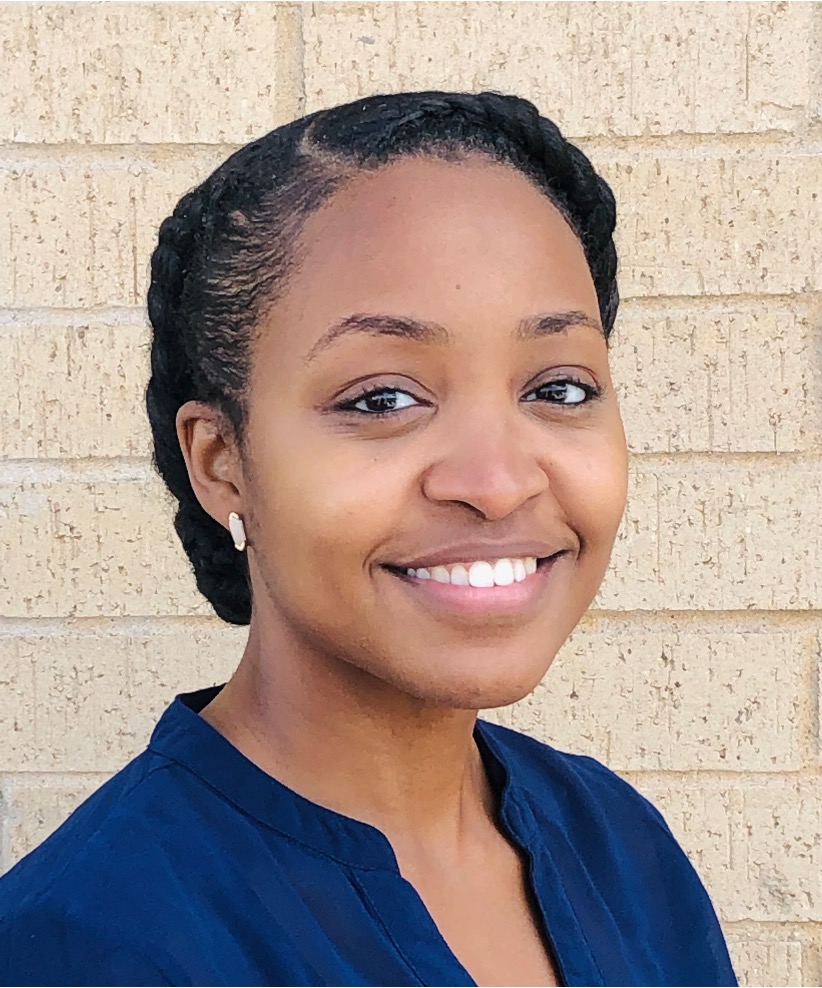 DaNae R. Woodard, Ph.D.
IRACDA Postdoctoral Researcher
DaNae R. Woodard received her Ph.D. in Biological Chemistry from UT Southwestern Medical Center in Dallas, TX in 2021. As a graduate student, she studied and biochemically characterized mutations in proteins involved in retinal degeneration in the laboratory of Dr. John Hulleman in the Department of Ophthalmology, UT Southwestern Medical Center.
Her passion for retina research led her to join Dr. Ayyagari's lab in 2022 where her research goals are to decipher the underlying cellular and molecular mechanisms involved in initiating idiopathic and inherited retinal degenerative diseases using biochemistry, single cell genomics, and animal and cell culture models.
Dr. Woodard is also an Institutional Research and Academic Career Development Award (IRACDA) K12 awardee. She received a travel award to attend ARVO 2023 and present her work.  She is also a recipient of a travel award to attend and present her work at the 2023 international RD meeting in Malaga, Spain. 
As a native Houstonian (Texas), Dr. Woodard is very thankful to be in San Diego where humidity does not exist, and she loves going to the beach, hiking, and painting.
---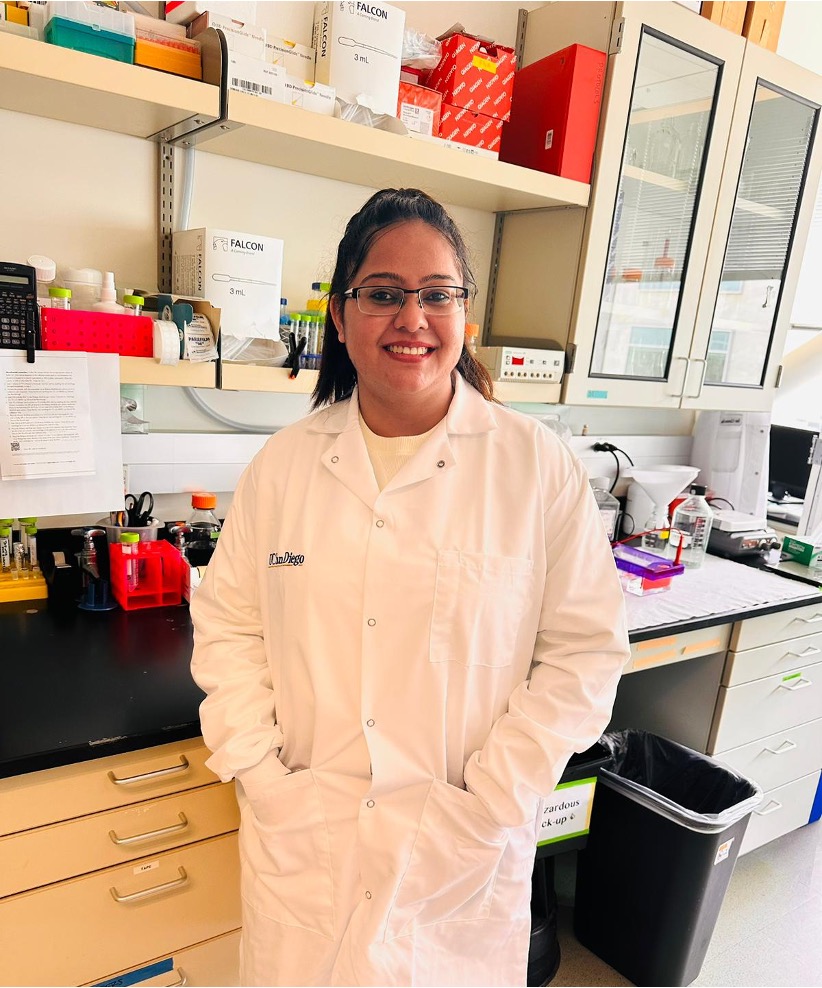 Julie P. Singh, Ph.D., MBA
Postdoctoral Researcher.
Julie P. Singh received her Ph.D. degree from Amity University Haryana, India in 2021. She worked on the identification of molecular targets for the treatment of Prostate Cancer in the laboratory of Dr. Gargi Bagchi, Amity Institute of Biotechnology, Haryana, India. Her research studies were patented for the strategies used for the identification of GPR56, a novel membrane androgen receptor in androgen signaling. She published research papers in international repute journals. Apart from her research work, Julie has extensive teaching experience teaching biotechnology courses at the University level and took practical classes for undergrad and masters students. She worked as a Teaching Labs coordinator at Amity Institute of Biotechnology, Amity University Haryana, India. After her doctorate, she worked as Project Head in the Biomedical Division of Deos Labs Pvt. Ltd., New Delhi, India where she along with her team designed chip-based novel assays for the detection of COVID, Leukemia, and STIs.
She joined Prof. Radha Ayyagari Laboratory for her postdoctoral studies in 2022. Her postdoctoral research is focused on understanding the molecular basis of pathology in patients with retinal diseases with an emphasis on the genetic causes and molecular pathways using single-cell genomics. Outside of work, she loves traveling, exploring different cuisines, playing musical instruments, and spending time with friends.
---
Anne Marie Berry
Master Student, UCSD
Anne Marie joined the Ayyagari Lab in 2021. She completed her B.Sc. in Cellular and Molecular Biology from UCSD and is now a Master's student in the lab. For her Master's thesis, she is studying a noncoding mutation predicted to be causative for retinal degeneration using various bioinformatics methods as well as CRISPR-modified cells. She is also studying the molecular changes in the mouse retina that occur with age using single cell genomics. She has a special interest in the field of genome editing and gene therapy and plans to pursue a P.H.D. in genetics. Ms. Berry received a travel award to present her work at ARVO 2022 and at the 2023 International RD meeting in Malaga, Spain.  Outside of the lab, Anne Marie enjoys going to concerts, jogging, surfing, learning to speak French, and trying new restaurants on Convoy.
---
Pooja Biswas, SRA I
Visiting Graduate Student, UCSD.
In 2008, Pooja completed her B.Sc. in Genetics from the University of Kalyani, India, followed by her M.Sc. in Biomedical Genetics from VIT University, Vellore, India in 2010. Subsequently, she worked as a project trainee at the National Institute of Immunohematology in India, concentrating on Cytogenetics within aplastic anemia patients. In 2011, Pooja assumed the role of a project fellow at the University of Kalyani, where she concentrated on homology modeling of the cancer protein p53.
Pooja joined the Ayyagari lab in May 2012 as a visiting graduate student. In her work within the lab, she employs genomics, in-house developed bioinformatics pipelines, stem cell and mouse models. She studied whole exome and whole genome sequences from over 600 patients. The goal is to unveil the root causes of inherited retinal dystrophies. Beyond data analysis, she has successfully generated genome-edited mouse models and cell culture models to advance the study of retinal diseases. Furthermore, Pooja employs patient-induced pluripotent stem cells (iPSCs) to develop relevant retinal cell types and organoids. By utilizing these cell models, she delves into the biochemical pathways underlying retinal degenerative diseases. Leveraging gene editing, she introduces mutations identified through her studies to create cell models for further investigation. Her groundbreaking work has led to the discovery of four novel genes implicated in retinal pathology. Presently, her focus remains on uncovering additional disease-causing genes and deepening the understanding of retinal pathology mechanisms using single-cell genomics. She received travel awards to present her work at ARVO and the international RD meeting.
Outside of her professional pursuits, Pooja has a passion for exploration, particularly through travel and culinary experiences. Her personal philosophy revolves around maintaining a positive outlook and a bright smile.
---
Elma Tabari, Ph.D.
Research assistant
•Elma Tabari holds a Ph.D. in Sport Physiology, Biochemistry, and Sport Metabolism, where she was the valedictorian. In addition to her doctoral degree, she has a Master of Science in Sport Physiology and has published several papers in physiology and sport science. Elma has received numerous awards for her research, including the Top Researcher Award of Physical Education and Sport Sciences from the University of Guilan, Iran. In 2019, she won two invention awards, one from Toronto, Canada, and another from Silicon Valley, USA.
Apart from her research work, Elma has extensive experience teaching Anatomy and Physiology courses at the university level and over a decade of experience in human and animal laboratory studies. She is proud to have served as an ACC Medical & Anti-Doping Committee Member and has volunteered as a nurse at an assisted living facility. In her earlier years, Elma was a professional athlete in the national Canoeing team for ten years, winning two gold medals in international competitions.
Although she no longer competes, she loves outdoor activities like hiking and kayaking. She hopes to contribute to the scientific society and humanity by conducting research, managing the laboratory, developing protocols and procedures to advance veterinary genetics research, promoting animal welfare, and contributing to evidence-based practices benefiting animals and humans alike.